Oct 20, 2022
Transitional arrangements to protect sectors without mitigations is a part of the government's farm-level emissions pricing proposal being worked on by the DINZ team going through the mass of detail.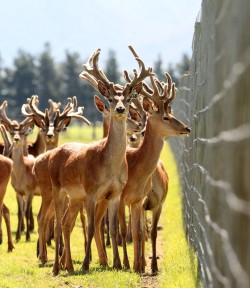 DINZ chief executive Innes Moffat, who is a recently appointed observer of the HWEN steering group, has been working through the detail of the government's proposal and its implications for the deer sector, with Gus Charteris. Gus is an economic development consultant with a good understanding of deer, who has been engaged by DINZ for the project.
Moffat highlighted the pertinent changes that had been made in the consultation document from the original HWEN proposal to the DFA Executive and Branch Chairs in Wellington.
Later that day, deer farming leaders also had the first opportunity in the wider primary sector to directly and extensively question Ministry for the Environment (MfE) chief advisor Martin Workman and Ministry for Primary Industries' (MPI) Fleur Francois, who have been working on the government's proposal.
Moffat said: "I think there is an argument that deer, because of a lack of mitigation and a lack of impact on the nation's greenhouse gas profile, should be arguing for shelter from the first round for a transitional period."
The government proposal and discussions with officials acknowledge the need for transitional assistance for farmers who do not have any mitigations available, over the period from 2025 towards 2030 where government is looking for a 10 percent reduction in methane emissions.
While HWEN had requested industry input to pricing, government had taken the Climate Change Commission (CCC)'s recommendation that it independently and solely advises on pricing.
"This is something we've got to push back on very strongly," noted Moffat.
Agriculture sector partners and government are focused on two core topics, the impact of the emissions pricing on sheep, beef and deer and recognition of on-farm sequestration.
Partners are concerned about government's non-acceptance of HWEN's proposals for recognition of on-farm sequestration categories for a wide range of vegetation. The proposed alternative limits rewards to riparian planting and native vegetation and switches sequestration into the ETS on the recommendation of CCC.
Putting more sequestration into the ETS is, in principle, a good move, "because if it's going to be benefiting the nation, the nation should be paying for it," but being in the ETS was seen as "unnecessarily bureaucratic and doesn't cover all on-farm sequestration," said Moffat.
Workman said the changes to sequestration were a recognition from government that there needed to be a relatively simple system to start with and that could be added to over time.
The cost of data collection and administration has "been very much front of mind for ministers and government," said Workman, responding to one of the many questions from the floor but there is a trade-off. The more detail there is in reporting and verification, the more the costs go up, he noted.
Submit on areas of concern
Both Workman and Francois strongly encouraged the deer industry – organisations and individuals – to submit on any elements of concern to the sector before the 18 November deadline so they can be taken into account.
Consultation on farm-level emissions pricing will close on 18 November 2022. Once submissions have been considered, the final proposal will go to Ministers for approval in early 2023.
DINZ will be working on its submission and templates to help individual submissions to be made. More information on that later.
In the meantime, B+LNZ is running meetings and webinars to get farmer feedback on the Government's GHG Pricing Proposal. Deer farmers are invited to attend any of the 13 in-person meetings around the country, starting on 25 October through to 9 November, or any of the eight webinars being hosted by B+LNZ/Dairy NZ.
A series of public webinars are also being held by the Ministry for the Environment (MfE) up to 10 November.
More information about B+LNZ GHG Farm Pricing Meetings >>
More MfE information about the consultation and to sign up for webinars >>
What changes has Government proposed?

DINZ view

Short-lived emissions (methane) pricing

Price set by Climate Change Commission (CCC) using achievement of targets as the main criteria.

Government proposes there is no price ceiling for methane.

Agriculture must be able to advise on prices.

Affordability, availability of mitigations, social impact by sector must be considered when setting prices.

Pricing must not threaten economic viability of deer farming businesses.

Long-lived emissions (N2O and CO2) pricing

Long-lived gas prices set annually and linked to the New Zealand Unit (NZU) price, with a proportional discount starting at 95 percent and phased down 1% a year.

Agricultural gases should be decoupled from industrial gases.

Relief must be provided to ensure economic viability of businesses.

Start date farm-level emissions pricing

1 January 2025 (not 1 July 2025 to fit in with farming year as proposed by HWEN).

Noted there would be a transition step of an interim processor levy if it cannot be in operation by 2025 (to be decided in 2023).

Government needs to commit to a farm level system start date. If a processor levy is introduced it needs to reflect sector needs and not seek to drive reductions in livestock numbers.

System governance

Government took CCC's recommendation that CCC will advise on setting levy prices independently, with Ministers making final decision on prices.

Agriculture must be able to provide advice on price setting, revenue recycling and mitigation recognition.

Who is responsible for reporting and paying?

Goats, pork and poultry will be excluded in 2025.

Sectors' inclusion should be dependent upon availability of mitigations and impact on national GHG emissions.

Pricing fertiliser emissions

Government is consulting on two options: either pricing within the farm-level levy (HWEN), or pricing within the ETS (CCC).

Feedback being sought.

Recognising sequestration

From 2025, reward sequestration from riparian margins planted after 2008 and additional sequestration from active management of indigenous vegetation where stock is excluded through contract payments.

Longer-term work towards incorporating categories into the NZ ETS.

All genuine sequestration needs to be recognised, in a cost-effective system. A simplified ETS should be developed to allow for inclusion of on-farm non-ETS sequestration.
Back to Industry News