Sep 22, 2022
A message from Deer Industry NZ chair, Mandy Bell.
Since being elected chair of Deer Industry NZ in July I have been busy talking with farmers, sister organisations and the DINZ team on the breadth of issues facing deer farming in New Zealand.
The Board's immediate priorities are:
Assisting the venison marketing companies to increase sales to our growth markets,­­ China and USA retail
Developing better access to China for New Zealand velvet
Representing deer farmer interests in the He Waka Eke Noa (HWEN) discussions
Providing assistance to farmers to help them get their environmental plans in place
Productivity improvement projects like improving the genetic base of the herd and developing a successor programme that extends the benefit of P2P beyond Advance Parties.


The DINZ Board and the executive team at DINZ are working hard on these issues on your behalf. At the same time, we – and the DFA executive committee – pride ourselves on being part of a close-knit industry in which we are happy to talk directly to farmers and to discuss your concerns.
You won't need reminding about how disruptive the last three years have been for deer farmers and the venison companies. We acted quickly, going on-line with as many of our activities as possible and diverting funding to new activities designed to assist with the recovery of venison markets.
But most importantly, we saw the Covid pandemic as a turning point. Continuing our activities in the future as if nothing had happened was not an option. But making major strategic changes in the middle of a pandemic was not a good idea.
Now that the worst of the Covid disruptions are (hopefully) behind us, it is timely to take a hard look at the future needs of the deer industry and the role DINZ should and could play.
In late August the DINZ Board held a review of the DINZ strategy. All aspects of DINZ work were put on the table and we asked ourselves what else could be done to add value to your businesses.
How could we help make the production of venison more profitable? What needs to be done to ensure the continued sustainable growth of our velvet producers? It also means we asked commercial partners what they are doing differently to ensure greater stable profitability in the future.
The Board is determined to set in place a strategy that helps restore confidence among venison producers. The profitability of your deer operations is at the forefront of our minds. We cannot have a sustainable industry without competitive profitability and we are focused on delivering what we can.
As a team, we are acutely aware of the challenges that New Zealand farmers are facing. But we believe there are big opportunities for farmers to be running deer profitably, producing high quality protein and health food ingredients in harmony with New Zealand's natural environment.
We will consult with many of you through the DFA and other forums on the revised DINZ strategy as it evolves, to ensure your expectations are incorporated in the new work programme.
The Board and I look forward to connecting with many of you in the coming weeks and continuing to work on your behalf to strengthen the future of our industry.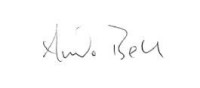 Back to Industry News