Jul 21, 2022
Fresh faces on the DINZ Board
Well known to many in the primary sector, Jacqueline Rowarth CNZM* HFNZIAHS** has a PhD in Soil Science and has spent four decades teaching tertiary students various aspects of sustainable food production from soil through to consumer trends and innovation.
In addition to her work in education, research and management, Rowarth has held government-appointed governance roles on the boards of Crop and Food Research and AGMARDT. She is currently a farmer-elected director of DairyNZ and Ravensdown and is an Adjunct Professor at Lincoln University.

Digging for facts and analysing the evidence to support an ever-improving path for agriculture is her raison d'être. A frequent contributor to public debate in the media; Jacqueline remains committed to dispelling the myths that surround food production.

Hamish Fraser is CEO of the Fraser family business which has diverse farming interests in South Canterbury, covering deer, dairy and sheep and beef, plus a hunting business in Wanaka.

Prior to the family business role, Hamish established a career in rural banking. To complement strong financial skills, he developed business management expertise working as a farm management consultant for McFarlane Rural Business.

Hamish has a Bachelor of Agricultural Science (Honours) and governance experience including various family advisory board roles. For the past seven years, he has been an independent trustee on the New Zealand Rural Leadership Trust board.

Proud and passionate about the deer industry, Hamish wants to ensure that a profitable and growing industry exists for future participants, and to continue to attract and retain the best people to the industry.

* Companion of the New Zealand Order of Merit
** Honorary Fellow New Zealand Institute of Agricultural and Horticultural Science
Nothing like personal contact
"There is nothing like meeting in person," reports DINZ manager markets Rhys Griffiths who – after nearly three years – was meeting his contacts face-to-face last week in the sector's most important velvet market, South Korea.
While the scheduled virtual market tours held over the past couple of years have been good in maintaining relationships, "they were starting to lose their shine," he admits.
First stop in Griffith's programme was to meet the New Zealand ambassador, Phillip Turner, to present the latest DINZ oriental medicine doctor (OMD) scholarships to two students, Injung Song and Moonyoung Ki at Kyunghee University in Seoul.
Getting into OMD courses at Kyunghee is very difficult and the two students – one the students association president and the other a member of Kyunghee's graduation preparation committee – had excelled within their cohort of highly talented individuals, Griffiths says.
"They both commented enthusiastically about their preference for New Zealand velvet, noting it was becoming more popular among younger OMDs."
Another meeting with one of South Korea's three active processors, President Lee, showed Lee was optimistic about the future for New Zealand velvet and for the growth in business over the next few years.
Part of this might be down to a new route for frozen velvet used by the three processors, "which will make them competitive with New Zealand velvet processed in China," Griffiths thinks. "In fact, Lee's company is busy re-exporting the valuable "jelly-tip" back to China after it is processed."
Griffiths also met with DINZ's food company partners, including three divisions of its closest partner KGC. These were well-timed to confirm promotional plans for Chuseok, the biggest buying time for velvet.
His week finished back in Seoul's Jegi-Dong, "where the New Zealand velvet industry started" visiting some of the traditional operators.
NZ-EU FTA gives certainty to deer exports
DINZ has so far kept a low profile on the conclusion of negotiations for the free trade agreement with the European Union, announced on 1 July.
Venison and deer products have not been subject to import tariffs or quotas, so had little to directly gain from the reduction in tariff, DINZ chief executive Innes Moffat explains.
"Other meat and dairy products exported from New Zealand had more to gain, so exporters are allowed to be disappointed with the deals the New Zealand government agreed to, but shouldn't be surprised that substantial improvements in access beef and dairy were not forthcoming."
For the deer sector it was more important to protect the access New Zealand has and to ensure European farming practices are not used as standards to which New Zealand farming needs to conform in order to get access, he says.
Over 7,065 tonnes of New Zealand venison, worth more than $69.3 million, has been exported to EU markets in the year to date.
"We strongly supported the New Zealand government's position on keeping welfare and farm management practices outside of the scope of the free trade agreement," says Moffat.
"We have different climates, different geography and different farm systems and we did not want European definitions of 'good farming practice' being used as barriers to trade for New Zealand goods."
Benefits of eating pasture-raised meat established
A major nutritional research project looking at the benefits of eating pasture-raised beef and lamb has released its results which are good news for the deer industry too.
The findings from a human clinical trial undertaken for the Pasture Raised Advantage research programme found that meat delivers more essential protein building blocks compared to a plant-based alternative.
The research programme involving AgResearch, University of Auckland, Massey University and the Riddet Institute has been exploring the health and wellbeing benefits of eating pasture-raised beef and lamb as part of a balanced diet, compared to grain-finished beef or a plant-based alternative.
The results are relevant for the venison sector. While understanding that plant-based alternatives have a place in the diets of some people, previously very little has been known about their nutritional value or health benefits. Now these findings show that red meat is probably a better source of protein than highly processed plant-based meat alternatives.
Nearing completion, a second clinical trial is looking at the longer-term impacts of eating a diet that includes moderate amounts of red meat. This trial, is the first of its kind to compare the effects of flexitarian and vegetarian lifestyles on people's health and wellbeing. The results of the second trial will be published next year, but the results of the first trial can be viewed here.
The research is funded by the industry partners Meat Industry Association of New Zealand Innovation Ltd, Beef + Lamb New Zealand Ltd, the High-Value Nutrition National Science Challenge, and the Ministry of Business, Innovation and Employment.
Using eASD? It's moving to MyOSPRI this weekend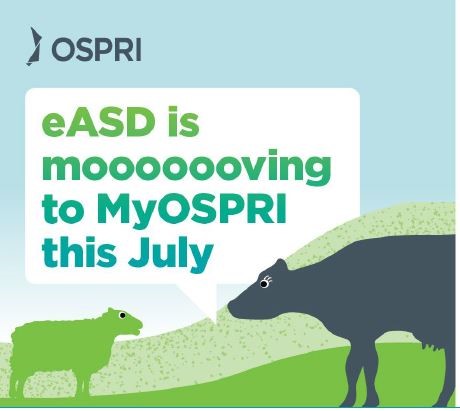 OSPRI is replacing the electronic Animal Status Declaration (eASD) system and its app this month with MyOSPRI, its new online customer portal, which will become its central platform for disease management and animal traceability.
From 5pm Sunday 24 July, all deer farmers will need to use MyOSPRI to send electronic farm-to-farm and farm-to meat processor ASDs for all deer, cattle and sheep (the paper ASDs will continue as before).
When the new system goes live, farmers will be sent a link to get them started in the new system.
Signup is easy. All that will be needed is the current eASD email address and a new password to be set. All of the historic eASDs will be moved over to the new MyOSPRI account.
IMPORTANT: no eASDs will be able to be sent from 7pm on Friday 22 July until MyOSPRI is live on 24 July. If deer farmers are transporting livestock over the weekend, be aware that eASDs will need to either be sent in advance, or the paper form will need to be used. Paper ASD forms can be downloaded online at:
More information here.
65 kg carcases in spring: easy?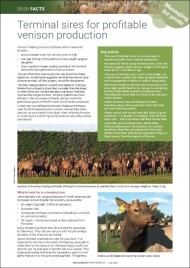 Today's genetics can achieve 65kg carcases in spring, but to achieve that, careful selection, good management and good nutrition are essential.
For farmers targeting the spring venison market a new Deer Fact, 'Terminal sires for profitable venison production' is enclosed in this month's Deer Industry News.
This covers all aspects of terminal venison production, as well as case studies from farmers who have improved (and continue to improve) their spring venison performance. After reading, farmers can pop it into the Management for Profit section of the black Deer Fact ring binder for future reference.
The Deer Fact will be supported by an article in the October edition of Deer Industry News.
Stay vigilant for FMD
Over the last year, there have been 23 new outbreaks of Foot and Mouth Disease (FMD) reported around the world. With the current FMD outbreak in Indonesia now including Bali, it is an acute problem for our Australian neighbours – and a reason for New Zealand to stay vigilant, reports DINZ science and policy manager Emil Murphy.
Making sure organic matter is removed before entering New Zealand is an important part of our border biosecurity, not just for FMD. Since this outbreak started in April, MPI has reviewed its border controls and DINZ continues to work with MPI to ensure that controls reflect the risk, he says.
Swill feeding also presents a big risk for introducing FMD, "that is why it is illegal to feed untreated food waste to pigs," notes Ward. The 2001 FMD outbreak in the UK was likely caused by a pig farm in Northumberland, England feeding waste not properly treated.
"Everyone needs to take on farm biosecurity seriously. This is a good time to revisit your biosecurity plan. Make sure all equipment and vehicles that might make it on farm are clean or, even better, provide your farm-specific gear to visitors. Visitors, workers, and yourself, must take a seven-day stand-down period before coming on farm if they have been in an area with active FMD."
Federated Farmers has been urging holiday-makers returning from Bali and other destinations to be vigilant as the virus can live on footwear for 48 hours. Vice-president Wayne Langford has noted: "If FMD reached our shores, it would be devastating for agriculture and our economy … Bring back a tan – not foot and mouth disease."
If you suspect any exotic disease in your stock, contact your veterinarian or the MPI exotic diseases hot line immediately. The hot line is manned 24 hours a day, seven days a week. Telephone: 0800 80 99 66.
Read more in the DINZ Exotic Diseases Deer Fact sheet>>
From the archives – Reproduction and hind longevity
Foundation research in the 1970s-1990s showed farmed red deer hinds were longer living than their wild counterparts, but reproductive success slowed as they got older.
There has been plenty of research into the reproduction of deer over the past 50 years with entire careers built around it, writes AgResearch deer scientist Jamie Ward. In general, that has shown the hinds need to both be successful at getting pregnant and getting their offspring to weaning.
Ward found an "interesting paper" on the longevity of hinds and their breeding success. Primarily authored by Dr Mark Fisher, this was based on the very first hinds "borrowed" from West Dome Station and brought to Invermay in 1973 (unknown-age) and their daughters (known-age). The study followed the lifetime breeding success of this group of hinds until at least 20 years of age.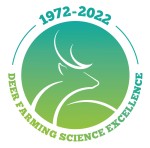 "The study showed hinds reached mature liveweight at three to four years of age, that liveweight averaged 102.8 kgs (range 79 – 130 kgs) for the original hinds and varied little over their lives," he notes. "Calf weaning success decreased from 90 percent after age six to seven to 50 percent at age 17 (Figure 1). The study concluded that red deer hinds were long-lived under farming conditions, but simply ran out of eggs around 17 years of age."
Reference: Fisher MW, McLeod BJ, Mockett BG, Moore GH, Drew KG. "Reproductive senescence in aged red deer hinds", Proceedings of the New Zealand Society of Animal Production 56, pp 344-346, (1996).
Know a certificate or diploma agriculture student who wants to learn more about the deer industry?
Some more young and keen agriculture students have the opportunity to get a close look at the deer industry through this year's Future Deer Farmers Experience.

NZDFA, in association with DINZ, is organising a whirlwind week-long 2022 Future Deer Farmers Experience tour from 8-12 August. Selected students will spend time with deer farmers, processing companies and also attend the DFA Next Generation 2022 conference in the Central North Island (Turangi and Ohakune).
Students studying towards a diploma or certificate in agriculture or farm management can apply along with those who have attended deer husbandry ITO courses.
More details and information about how to apply are available at the Deer Hub here. Applications are now open and close at 5pm Friday 29 July 2022.
Carey Pawson-Edwards from Coleridge Downs Training Farm, Rakaia Gorge, enjoyed his experiences on the 2020 Future Deer Farmers Experience tour, as he says in the video below. He particularly "enjoyed connecting with all the local farmers, especially at the dinner in Taihape, it was a really good night out."
Events
National Technical Workshop
Wednesday3 August 2022, Fairlie, Canterbury
Over 150 deer farmers, and farmers interested in deer, are expected at this year's National Technical Workshop and Tech Expo to be held in a couple of weeks' time at the Mackenzie Community Centre in Fairlie.

The workshop, organised by DINZ and the South Canterbury/North Otago branch of the NZ Deer Farmers Association as part of the P2P programme, is a free one-day event (8.00am – 4.00pm) with plenty on offer to justify a day off farm.
Nineteen speakers will cover a range of topics in four themed sessions: markets, genetics and science, business planning and technology, with workshops focused on technologies to improve deer productivity and profitability. The workshop will give farmers practical take home suggestions with over 25 rural tech and service providers onsite at the expo to answer any questions on the latest industry technologies.
Register at the following link >>
For more information about the day or to book an Expo space, contact Rob Aloe, Deer Industry NZ rob.aloe@deernz.org or phone: 04 473 4500.
Celebrating 50 Years of Deer Science, 26 September 2022, Invermay
Organisers are busily planning the 50 Years of Deer Science Conference at AgResearch Invermay in September to celebrate 50 years of deer science. They say it will all be about "a unique industry that started from scratch and, in a generous partnership with science, created a new industry based on innovation, research and passion."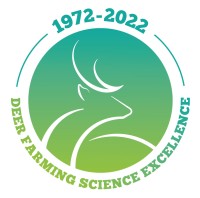 A sneak peak at the early programme, shows it will rotate between farm visits and conference presentations.
The farm visits will showcase the Invermay deer farm and some modern deer, the rising yearling across-breed (ABC) progeny cohort, the Tomorrow's Deer breeding hind herd and Invermay's breeding stags who will be growing velvet antler.
Displays of key deer farming science and technology then, now and in the future will be on show, along with a few key talks from industry pioneers and current day researchers and industry leaders. The focus will be on looking back to move forward and celebrate. More news on those later.
There will be plenty of time for social interaction, reminiscing and reunions, the organisers promise. Lunch will showcase the best of the deer industry's products. All will be capped off by the Gala Dinner in Dunedin – with "a few selected identities with a flair for storytelling to reminisce and entertain".
More information from DINZ science and policy manager Emil Murphy emil.murphy@deernz.co.nz.
40th National Velvet and Hard Antler Competition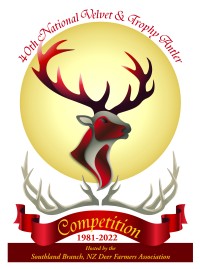 The Southland DFA branch has set the dates for this year's national velvet competition.
The 40th National Velvet and Trophy Antler competition will take place 14-16 December 2022 at the Ascot Park Hotel in Invercargill. Details to follow.
For more information contact: southlanddeerbranch@gmail.com.
Back to Industry News