Dec 8, 2022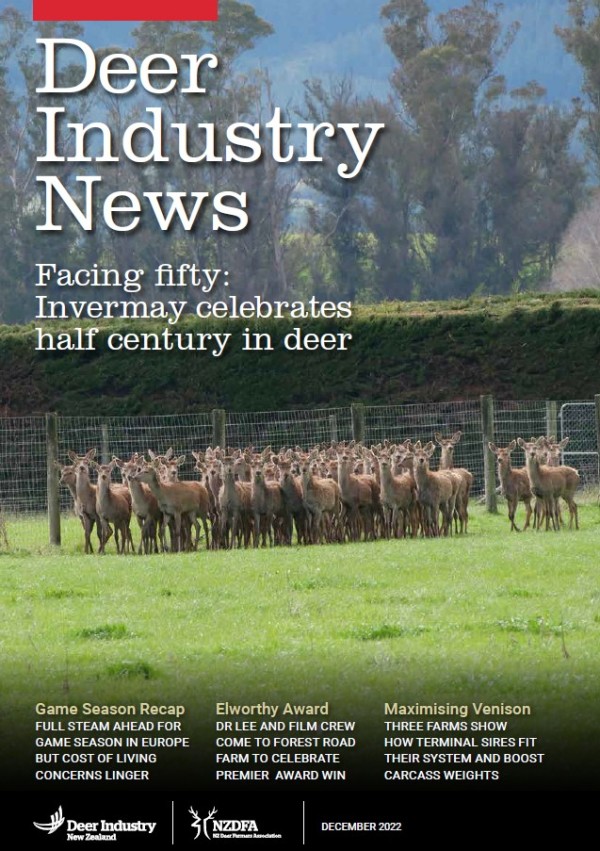 In this issue:
Editorial
So long and thanks for all the venison
Markets
Full steam ahead for game season
Unifying deer products' superpowers
"Awesome to see" Korean velvet visitors
Two minutes in front of huge audience
Environment
Award day at Arawata
Wetlands focus in South Canterbury
Mararoa: Showing how it's done
Field day marks premier award win
On Farm
Using terminals to maximise income
DINZ News
Survey highlights changes
Ian Walker farewelled on home patch
New funding announced
Introducing Lynda Gray
People
Haldon Station owner passes away
Fallow pioneer remembered
Recipe
Venison Wellington
Research
Invermay's big five-oh
NZDFA News
Branch chairs meeting summary
Cover: Young stock on the flats at AgResearch Invermay nervously check out the more than 100 guests who came to celebrate 50 years of deer research. See p30. Photo: Phil Stewart.
Click on the icon in the bottom right corner of the magazine preview below to view in full screen.
Back to Industry News