Resources and information for managing your business under COVID-19 alert levels.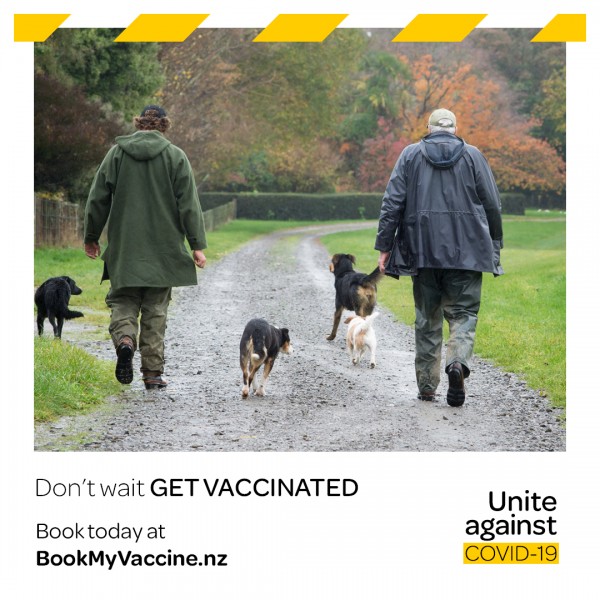 We all have a role to play in getting more people vaccinated. Let's get back to doing the things we love. Everyone aged 12 years and over can get their free COVID-19 vaccination now.
Information for managing your business during COVID-19 levels
Farming and the growing of food, production, transport, processing and sale of food and beverage is recognised as an essential service. This includes the provision of services essential to farmers and growers operating their businesses. If in alert level 4, please don't treat this like a normal day on-farm, activities that can be deferred weeks must be. Please undertake essential jobs only.
COVID-19 (coronavirus) information and advice | COVID-19 (coronavirus) information and advice | NZ Government (mpi.govt.nz)
Checklist for farmers
PREPARING FOR COVID-19 ON-FARM
It's only a matter of time before a positive case of COVID-19 turns up on-farm. Is your business prepared if one does?
It's important you have a plan to ensure your farm can continue to operate if you, an employee, or a family
member contracts COVID-19. You may be required to leave your property quickly.
Having a plan will help give you peace of mind that others will be able to step in and help.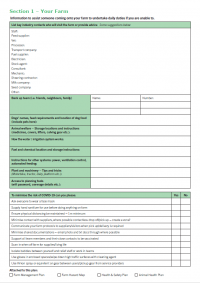 A checklist has been created to help you create a plan in the event you are required to leave your property and are unable to look after your animals, staff and business. The detail contained in your plan is unique to your own property and circumstances to allow family, friends or neighbours to come in and tend to the immediate needs of your livestock.
The plan is broken up into four sections. These are:
Section 1: About your farm – How it works.
Section 2: COVID-19 on farm – the next 14 - 21 days
Section 3: Information to assist the Medical Officer of Health
Section 4: Personal wellbeing
We encourage you to involve your staff (if you have them) and your family with this planning. Please remember, this checklist is not exhaustive and you can add anything that will assist your planning.
Click here (or on the image to the right) to download the checklist >>
Keep Safe
1. Guidance for farmers: Keep your family and your workers safe:
Please encourage your workers and your family to take this seriously. Avoid contact with people who are unwell, maintaining a 2-metre distance between staff at all times and increase personal hygiene measures.
The most important measure to take is to wear a mask to stop transmission
Guidance for farm businesses on steps that should be taken to keep farmers and workers safe can be viewed here: Guidance for farmers: Safe working plans >>
Safe work practices during Alert Level 4 | COVID-19 (coronavirus) information and advice | NZ Government (mpi.govt.nz)
COVID-19 on farm self isolation or quarantine - what you need to know
This webinar from Tuesday 2nd November is your opportunity to hear what will be considered when a Medical Officer of Health makes a decision on whether or not you can isolate and continue to work on farm.
Dr Michael Butchard, Medical Officer of Health discusses what considerations are taken into account when making a decision and answers questions on this subject. Dr Butchard is supported by other medical professionals, including an expert on vaccinations.
2. Essential Services:
These include:
Livestock and primary produce transporters
Veterinary service providers
Feed/Fodder transporters
Feed and supplement manufacturers, processors, suppliers and stores
Manufacturers and distributors of animal medicines
Pet shops and services
Animal control
Workers caring for animals in containment
Rural contractors who are providing essential services that cannot be deferred over the next four weeks, especially for animal welfare purposes (artificial insemination technicians; stock agents managing and directing stock movements; winter re-grassing for feed; fertiliser supply and application; shearing where necessary for animal welfare)
Fertiliser manufacture and distribution
Goods that are essential for animal welfare or business operation can be delivered during this period if they cannot be deferred for 4 weeks. At this point in time there is no government list of unapproved activities, but good judgment and worker safety must take priority.
A condition of delivering any items is that the suppliers must have registered with the Safe Businesses website if they have 5 or more workers, and all good practices to ensure worker safety is strictly adhered to.
Contractors coming onto the farm
In most situations it is much easier for you to keep your distance – 2 metres will be easy – 200 metres even better.
Contractors should be able to arrive on their own, do the job without you being close and leave without contact – use the phone to give instructions.
3. Alert Level 4 Business Movement Declaration
At Alert Level 4, Police have the power to stop people who are not undertaking essential business. Travel for workers and contractors will be helped if they are carrying a letter from their employer describing the nature of their business. For an example you could use this template, click here to automatically download >>
4. Extension to NAIT timeframes
OSPRI extended NAIT reporting timeframes during Covid-19 Alert Level 4. Changes have been made to these timeframes since the initial Alert Level 4 period and it is recommended to check the OSPRI/NAIT website/s to ensure you are aware of the latest information.
The latest new release from Oct 22nd can be found here: ospri.co.nz/news-and-events/update-on-nait-timeframes-and-pest-control-operations/
5. Above all Keep Safe
Keep safe and keep clear.
Make sure everybody in your and your employees' house keeps a 2-metre distance from others as much as possible.
If you or someone you know needs some help with managing this stressful situation, we encourage you to reach out to your friends, networks, professional colleagues or support lines.
A interactive PDF map of the rural vaccination sites throughout the country can be viewed and/or downloaded here >>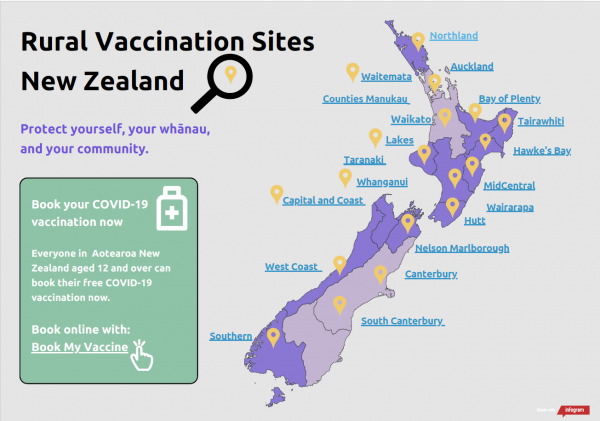 Everyone aged 12 and over can book their free COVID-19 vaccination now. Book online with at bookmyvaccine.covid19.health.nz
If you can't see the PDF, here are the direct links to each DHB region:
COVID-19 Update from Deer Industry New Zealand - February 2021
COVID-19 Update from Deer Industry New Zealand - October 2020
COVID-19 Update from Deer Industry New Zealand - 20 Aug 2020
COVID-19 Update from Deer Industry New Zealand - 12 Aug 2020
Information for managing your business under the COVID-19 alert levels
Back to Support services